Navigating the Insurance Process After a Car Accident
---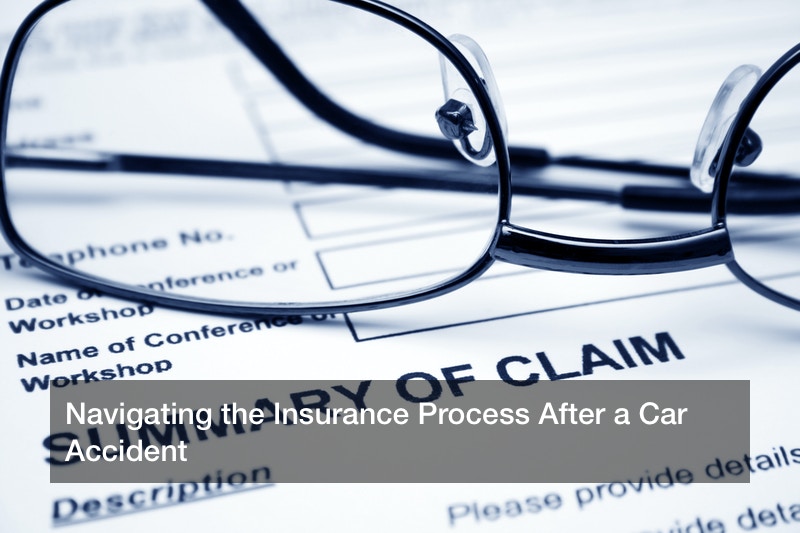 When traveling in our vehicles, safety should be the number one priority. Included on every learner's permit and driving license exam are numerous questions about driving safety. It is important to practice due diligence while out on the road. Unfortunately, no matter how safe we are, other drivers may not follow.
Car accidents are all too common of an occurrence. Motor vehicle accidents can be a potentially dangerous situation that often result in severe injuries or death. Those who can walk away from their accident should consider themselves incredibly blessed. Even if the accident was relatively minor, you will still feel the annoyance of lots of legal paperwork. This can cause several eye rolls and headaches. Dealing with the insurance company can be a hassle. Follow some of these tips and tricks on how to deal with insurance after a car accident.
The first steps after an accident
After suffering from a car accident you will likely feel a range of emotions. You might have feelings of anger, confusion, and distress. It is best to remain calm. You might feel the urge to lash out at the other driver but doing that can only hurt your situation. Once you have collected yourself, make sure that everyone is ok and contact emergency services. You can then assess the damage done to your vehicle. You will also want to take pictures. These pictures will be incredibly helpful to the insurance agency. They will use them during the evaluation process as you decide how to deal with insurance after a car accident.
When making an insurance claim, it is best to be thorough in your evaluation. Carefully examine all of the damage your vehicle has suffered. You should not, however, be overzealous. Insurance fraud is an exceptionally serious problem that carries large consequences. The insurance claim process can help you get the compensation that you deserve. It can be a tricky process but if you take it seriously and are thorough, it can go by smoothly.
Lawyers
Unfortunately, when deciding how to deal with insurance after a car accident, the situation does not go as smoothly as we would like. Some companies can drag their feet in evaluating your claim. If you feel that you are being shafted by the insurance company, there are several key options you could. This can be incredibly stressful if you have suffered an injury from the accident. You will want to settle this issue as quickly as possible. A bullish company may put up a roadblock to your compensation. This is a literal case of adding insult to injury. Accident injury attorneys can be a lifesaver when dealing with the insurance company. We do not wish for the last resort, but for some, this is the only available option. Court appearances are a hassle so hopefully, you can get everything settled beforehand. Your attorney can, hopefully, light a fire underneath the company and they will be ready to settle your claim.
When you are involved in a car accident, an injury attorney can only do so much. Unfortunately, there are incidents where you will be at fault. If you want to avoid this situation, you can help yourself by following all traffic laws. Driving under the influence of alcohol or drugs are offenses that carry serious consequences. It is best to play it smart and use common sense. Even if you are only feeling a slight buzz, you are still in no position to drive. Even if you agree to not drink and drive, you still might find yourself in legal hot water. A momentary lapse in judgment should not ruin your life. If this is the case for you, you will want to contact an auto accident lawyer. They can help you navigate the muddy waters of this state of affairs.
Learning how to deal with insurance after a car accident is bad enough. If you are considered at fault for the car accident, it can be a scary situation. If you find yourself arrested, you might be feeling a sense of vulnerability. You will want to know the steps you need to take. The bail process is one that you should know the ins and outs of. The bail is what the court uses to ensure that you appear before them on your scheduled date. Those that cannot post their bail will have to remain in jail for the time being. This sounds like a horrible sense of circumstances. Utilizing bail bonds will help you get out of jail and be better able to take care of your case. A bail bond company will post the bail bond for you as long as you promise that you appear in court. If you fail to uphold your end of the deal, you will be on the hook with them. Learning how to deal with insurance after a car accident is stressful enough. Facing legal repercussions is an incredibly trying circumstance. With the right people guiding you through this period, you can come out on top and prosper.
Car repairs
When you are the victim of a car accident, the vehicle itself is the main source of destruction. Dents in the body, broken windows, and broken lights are among the most common damages your car might suffer from. You will want to get these damages rectified as soon as possible. Learning how to deal with insurance after a car accident is strenuous enough. Finding someone to fix you car is just an added stress.
With the right plan, your car repairs should be taken care of by the insurance company. This is why taking pictures of the damages immediately after the wreck is essential. When searching for someone to fix these issues, thorough research is vital. You will be on the lookout for an autobody or collision repair shop. They can help repair dents in the exterior of the vehicle. Consider recommendations from trusted sources as well as suggestions from online reviews. You can utilize these sources to help you make a wise and informed decision.
Many car accidents result in a shattered windshield or window. When this happens, safety is a major concern. The shattered glass is incredibly sharp and can cause bleeding. When exiting the vehicle after the accident, watch out for glass. If you're wearing flip flops or any type of open footwear, you will be vulnerable for cuts. If you do get cut, you should apply direct pressure on the wound in order to stop the bleeding. You should wrap the wound in a gauze pad before emergency services arrive.
Unless you want to drive around with some cardboard in the window, you will want to rectify this issue as soon as possible. Consider contacting a glass repair or windshield replacement service. Since the ability to see is so important while driving, you will not want anything hindering that. Once your windshield and or windows are prepared you will be able to see more clearly while out on the road.
Going without a vehicle
As you navigate how to deal with insurance after a car accident, there will likely be some significant damage to your motor vehicle. Your insurance settlement should help with all repairs. Even if the settlement process goes off without a hitch, an unfortunate consequence will be your car being out of commission. You still have a life to live and will need to figure out a way to get to work, school, etc. You could depend on friends and family. However, if your car is in the shop for a long time, this might create a burden on them. A great option is to utilize your local municipality's public transportation services.
Look into the bus schedules and decide what is best. Depending on the locations you are traveling to, you might need to take several buses. You will have to operate on their schedule. This might mean an early start time to your day so you should plan accordingly. The bus schedule should be available online and the company might provide printed copies at their terminal as well. It might be an inconvenience but you can make do for the time being.
Finding the right automotive insurance
The first step in figuring out how to deal with insurance after a car accident is making sure you have the right policy. While shopping for auto insurance it is best to be proactive. You never know when you will have an accident. After the accident is not the time to go shopping. Since these situations are unpredictable, you will want a policy on reserve just in case.
Figuring out how to deal with insurance after a car accident can be complicated. You will need to conduct pertinent research beforehand. Insurance policies can be complicated and feature plenty of fine print. It is important to go over it with a fine-toothed comb. Finding out exactly what your policy entails is vital. The last thing that you want is for the policy to not cover what you need.
On average an auto insurance policy averages to about $92 a month. It is a wise investment on your part. These policies are there for your protection. You can help narrow down your choice by visiting the various company websites. Comparing and contrasting the different company policies will help you make the right choice. You can also ask your friends and family about their insurance. They can tell you if they are pleased with their policy or what they don't like about it. As you learn how to deal with insurance after a car information this research will allow you to make an informed choice regarding your policy choice.
Health problems
Your car may not be the only thing that will suffer damage. Unfortunately, serious injuries derived from a car accident are all too common of an occurrence. There are varying degrees of severity. Some will require hospitalization while others may just have some slight discomfort. When learning how to deal with insurance after a car accident, you will want to know what medical repercussions can be covered. If you have suffered an injury, it is best not to waste time. If the injury, no matter how severe, goes unaddressed it may snowball into something larger. You might think that it's only discomfort and you can just "deal with it." That little discomfort may develop into a major pain before too long.
Back pain is common among car accident sufferers. If ignored, the alignment of your back may be out of sorts. You will want to seek chiropractic care after a car accident to help get it back in order. Whiplash is among the most common injuries after a car accident. This could cause some severe strain in your neck and spine area. A quality chiropractor should be able to realign your back and have you feeling just as good again. After sessions with your chiropractor, you mustn't overexert yourself. You might think your back is as good as new and can return to normal. Ease yourself back to your regular self. Do not attempt any strenuous activities. This could make things even worse. Someone who works a physical labor job should look into worker's compensation or medical leave. It is best to play it smart and use common sense. Just because you are in pain and can't do what you normally do, does not mean that you are weak. Take as much time as you need to get back to full strength. This process is a marathon, not a sprint.
Motor vehicle accidents are a tremendous source of stress for all involved. Medical, legal, and insurance-related issues are especially prevalent in this time. As you wonder how to deal with insurance after a car accident, there are a number of important decisions to make. What auto insurance policy is best for me? Do I need to hire a lawyer? What medical issues will I face? The insurance process can seem like a large and confusing endeavor. It does not have to be. If you are committed to in-depth research and asking the right questions, you can easily navigate these muddy waters. Nobody wants to find themselves in this situation. Unfortunately, car accidents plaque many of us every year. By being proactive, you can help make everything a little easier.