Different Types of Auto Mechanic Careers
27 September, 2021
0 Comments
---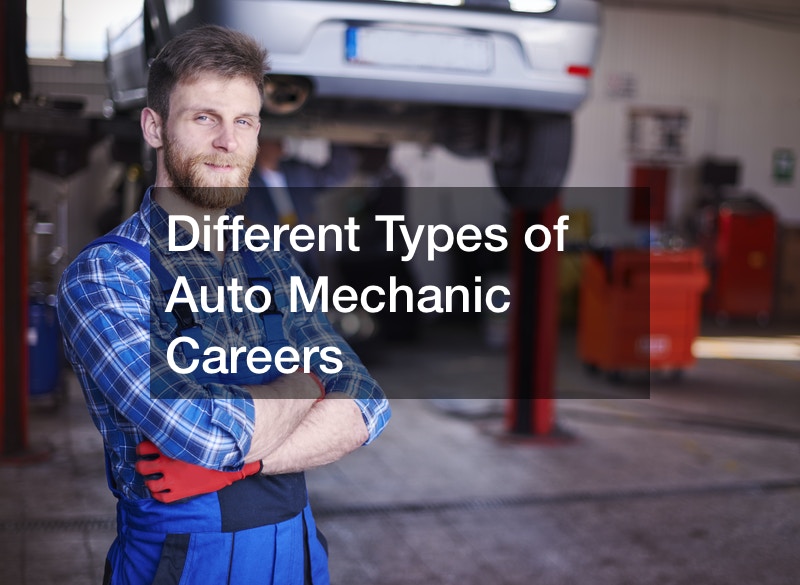 Did you know that there are different types of auto mechanic careers for just about any car and mechanical issue? From specializing in certain luxury cars to automotive engineers that work on huge, commercial-sized engines, there are so many different types of auto mechanic careers to choose from!
Below are some of the most specialized and lucrative types of auto mechanic careers for you to consider.
1. Service Mechanic
A service mechanic is an all-around general mechanic you might visit at your local mechanic. Service mechanics are well-rounded and have general knowledge in auto parts, pricing, systems, and mechanics of a vehicle.
A service mechanic can help you with simple issues such as changing a timing belt, changing a starter, or replacing other auto parts. Although they have general knowledge, a service mechanic must still be certified before beginning work on your vehicle.
2. Luxury Car Mechanic
A luxury car mechanic is exactly what it sounds like- a service mechanic that specializes in luxury vehicles. Luxury vehicles are different due to the fact that they have to have certified replacement parts and repairs can be complicated.
For instance, the luxury brand Mercedes does not allow rotors to be replaced with just any part. A luxury mechanic can help repair vehicles and ensure the highest quality of repairs are done. They usually have their own shops dedicated to fixing luxury cars.
3. Auto-body Technician
An auto-body technician is perhaps one of the best auto types of auto mechanic careers around. Every day, people will need everything from car dent repair, to repairs to replace huge sections of a car's outer body.
An auto body technician has the knowledge of how to repair outer damage to a vehicle, and how to integrate it into the inner workings of a vehicle. They should work at a certified body shop, which can accept insurance payments to help your car look its best again.
4. Custom Car Painter
Car painting is a lucrative career that is needed each and every day. A custom car painter puts intricate designs to use and can help vehicles have finishes that will last for decades.
A car painter uses spray brushing and other techniques that must be able to withstand the test of time. This is one of the best types of auto mechanic careers for those with an artistic side.
5. RV Mechanic
An RV mechanic is trained in repairing either a new or used RV. RV mechanics are incredibly specialized in their field, as RV's have different parts such as water heaters, furnaces, even air conditioning units that are vastly different from a regular car!
An RV mechanic can give people an RV inspection service to ensure RV maintenance isn't needed before a family hits the road for their cross-country trip!
6. Heavy Duty Mechanic
A heavy-duty mechanic has to have specialized training to perform forklift repair, school buses, trucks such as semi-trucks, and other heavy-duty vehicles.
Because heavy-duty mechanics have to deal with larger vehicles, it takes around 1 to 2 years to complete formal training.
A motorhome is a bit different from an RV. Although an RV can be a motorhome, RV's can also be small camper trailers that need an RV mechanic to fix. A larger motorhome will need a motorhome mechanic that is trained to fix issues that can arise in a motorhome, including heating, even computer diagnostics in today's motorhomes.
8. Battery Repairman
Being a battery repairman can be one of the most convenient types of auto mechanic careers. A battery mechanic specializes specifically in changing car batteries, which have to be replaced every one to three years depending on how much use a vehicle gets.
9. Brake and Transmission Technicians
Brake and transmission technicians have to be certified for the important task of changing out brakes and repairing transmissions. This is one of the most crucial types of auto mechanic careers, as failing brakes can cause injury and even be fatal.
10. Tire Repair Technician
Tire repair technicians are some of the best, and busiest, auto mechanics around. A tire repair technician is trained in knowing what kind of tires your vehicle needs, what types of tires would be best for different environments, and how to rotate tires for all-wheel or rear-wheel drive vehicles.
A tire repair technician can also do small repairs, such as putting rubber patches on your tires, fixing small leaks, and also helping put custom tires on vehicles.
11. Diagnostic Technician
In today's cars, advanced computer systems are used in everything from GPS systems, to opening the car door, shutting the window, and, of course, warning signs on a car's dashboard.
A diagnostic technician knows how to diagnose issues that a vehicle has, either through using a computer system and interpreting data in a car or by using old-fashioned diagnostic techniques.
Diagnostic technicians have to have a high level of technical skills to determine the root cause of problems and use analytical thinking to diagnose vehicle issues.
12. Hybrid Technician
In today's world, hybrid vehicles are everywhere. Some of the most popular hybrid vehicles include the revolutionary Toyota Prius. However, virtually every car brand today, from Ford to Chevy, has some form of a hybrid vehicle.
It can be difficult for a general mechanic to diagnose and repair hybrid vehicles without formal training. Thus, a hybrid technician can help diagnose, repair, and continue to do maintenance on hybrid vehicles.
These vehicles have different car parts that allow them to run off of both a battery and gas. There are many cells within hybrid vehicles, along with traditional car parts such as an engine and a regular 12V battery. A hybrid technician can help determine the cause of problems in a hybrid vehicle, and determine if the issue is due to hybrid parts or other parts of the vehicle.
13. Vehicle Inspectors
If you've ever gotten a smoke check, then you've visited a vehicle inspector. Vehicle inspectors must ensure all vehicles are up to standard before they're able to be on the road. They conduct vehicle inspections for smog checks, taillights, headlights, and everything in between. Being a vehicle inspector is one of the most important and lucrative types of auto mechanic careers in the business.
Vehicle inspectors can be employed by businesses ranging from car dealerships, to government agencies, and private companies such as a rental car agency. Keep in mind inspecting a vehicle has a high amount of liability attached to it. Vehicle inspectors must be detail-oriented.
14. Diesel Mechanic
Buses, trucks, and other large vehicles might still utilize diesel engines. Although some cities are phasing out diesel engines on their transportation vehicles, some buses and tracks still use them.
This is where a diesel mechanic can step in, and help repair anything from bulldozers to cranes. Diesel mechanics can work in the marine industry, with local governments, or in wholesale trades.
15. Motorcycle Mechanic
A motorcycle mechanic is specially trained to fix issues arising from motorcycles. Many people have that beloved Harley-Davidson chopper, or their fast Kawasaki speed bike sitting in their garage as their most prized possession.
As such, motorcycle mechanics have to be highly trained to diagnose motorcycle problems in any type of bike, including dirt bikes, sportbikes, cruisers, and dual sport bikes. In addition, motorcycles can also be vintage, and as such need a motorcycle mechanic trained in fixing vintage motorcycles without having them lose their value.
The great thing about being a motorcycle mechanic is that more and more local districts are now using motorcycles in their police department. A motorcycle mechanic can be employed directly by a city or local police department to exclusively repair police motorcycles such as BMW brands.
16. Small Engine Mechanic
Small engines can be found in ATVs, attached to bicycles, and even in lawnmowers. That's right, lawnmowers! Did you know that all those small engines need the help of a small engine mechanic to repair them?
A small engine mechanic is one of the most versatile types of auto mechanic careers. One minute you can find yourself fixing an ATV, and the next trying to start up someone's custom-built engine bike. As such, it's important to be open to learning when becoming a small engine mechanic.
17. Boat Mechanic
A boat mechanic also works on small engines, but they have to have specialized training to fix boats. Boat mechanics typically are paid very well, as people with boats use them for either recreation or as a source of income.
Boat mechanics must know how a boat works, and repair issues such as ice build-up, issues with propeller blades, cleaning out a sea-strainer, knowing how to refuel boats, and everything else associated with small fishing boats to huge yachts.
In addition, there are various types of boats including sailboats, motorboats, and sportfishing boats that all require professional maintenance, diagnostics, and repairs from a boat mechanic.
18. Glass Repairmen
If you've ever gotten your car hit by a rock in the middle of the highway, you understand just how important it is to have a glass repairman on hand to fix windshields and other glass on your vehicle.
Glass repairmen can easily have their own business, and are one of the most mobile types of auto mechanic careers one can have. Glass repairmen can do house calls and quickly repair front windshields, broken passenger or drivers side windows, and even replace a windshield wiper!
Every day, people, unfortunately, get into accidents, get their car broken into, or get hit by objects that lead them to seek the help of an auto glass repairman.
19. Exhaust Mechanics
Exhaust mechanics are trained to do diagnostics and repair issues with a car's exhaust system. A car's exhaust system can include catalytic converters, mufflers, piping, and headers.
Unlike other issues that can arise from a vehicle, issues with the exhaust system are readily apparent and require the help of an exhaust mechanic immediately. For instance, when a catalytic converter is damaged or stolen, extremely loud noises can arise from a vehicle causing a scary reaction from its owner!
An exhaust mechanic can not only diagnose and repair exhaust system issues but also give advice on how to prevent exhaust parts from being stolen and the best parts to use. Nowadays, catalytic converter theft is on the rise, as these expensive parts are made of platinum. Luckily, as an exhaust mechanic, you can help people replace and repair stolen exhaust parts such as a catalytic converter.
20. Race Car Mechanic
Formula 1 and other race cars have dedicated mechanics that help service race cars not only before a race, but during a race during a pit stop, and after a race. Racecar mechanics can make good amounts of money, and as such, this is one of the most competitive types of auto mechanic careers.
21. Electric Car Mechanic
The electric-vehicle powerhouse company recently launched a new training program for future electric car mechanics! As the name suggests, these mechanics are trained to fix issues related to highly advanced electric vehicles.
Such issues include batteries not charging, issues with battery connections, fast battery degradation, and everything in between. Being an electric car mechanic is one of the most lucrative types of auto mechanic careers, as they are highly trained and valuable.
Get your Training Started Today
The automotive industry is ever-changing and advancing. With new technology emerging, the types of auto mechanic careers will change in the future, and only get more and more complex. This is why it's important to start a career as soon as possible if you decide this is the right fit for you.
The sooner you begin education to begin a career as a mechanic, the sooner you can obtain vocational training and be on the road to owning your own business or working in a high-paying auto mechanic career.